This site uses cookies to provides services, personalise adds and analyse traffic. Information on how you use this site is shared with Google. If you use this site you agree with the use of cookies. Sorry to bother you with this annoying banner. European law says we have to. Click the "I get it" link to hide this message.
Deze site gebruikt cookies om services te leveren, advertenties te personaliseren en verkeer te analyseren. Informatie over je gebruik van deze site wordt gedeeld met Google. Als je deze site gebruikt, ga je akkoord met het gebruik van cookies. Het spijt ons dat we u met deze irritante banner moeten lastig vallen. Iets met nieuwe Europese wetgeving. Klik op het "I get it" linkje om deze boodschap te verbergen.
More info...
|
I get it
Pictures Ton Nientied Samariscus triocellatus (Three-spot righteye flounder )
Samariscus triocellatus
(fb)
© Ton Nientied
27-01-2013 17:46:45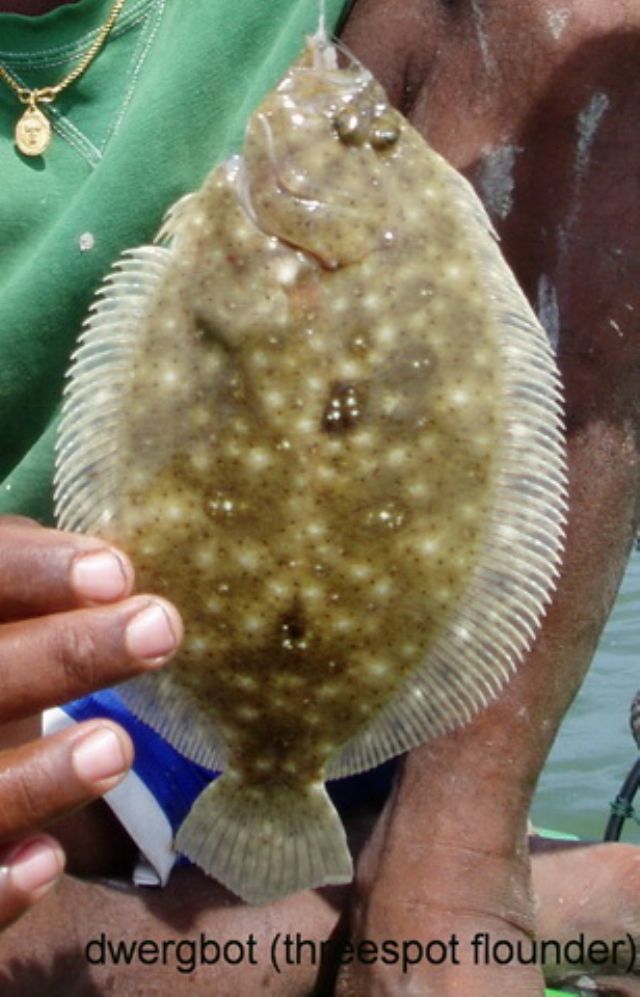 picture properties:
| | |
| --- | --- |
| year taken : | |
| country : | |
| notes : | |
replies (4)
30-01-2013 22:04:13
Pieter Beelen says : Gave soort!

19-02-2013 20:25:02
Theo Modder says : Lijkt me toch een andere soort platvis, Ton, oa omdat dit een left-eye is.
Of is de foto gespiegeld ?

21-02-2013 17:27:05
Ton Nientied says : Zou zo maar kunnen. Ik heb hem gespot in Reef Fishes of the world (Lieske en Myers) 131 nr. 7. Die staat onder de right eye flounders. Lijkt me dat de ogen
op de niet gespiegelde foto aan de rechterkant zitten. Die hele right/left eye benaming is me trouwens niet helemaal duidelijk gezien de andere afbeeldingen in het boven vermelde boek.

04-03-2013 19:19:28
Ton Nientied says : Theo, de determinatie klopt inderdaad niet. De beschreven dwergbot samariscus triocellatus wordt max. 9 cm. En deze vis zat toch wel op 20 cm.
Na wat speurwerk zet ik nu in op de pseudorhombus arsius (largetooth flounder).

---
---